This is the title that the editors of the Stanford-based publication
Ambidextrous
chose for the article about
Passages
published in the current Fall/Winter issue, which theme is about "Getting it on"... This issue is somewhat a follow-up to the
CHI '06 workshop
'Sexual Interactions: Why we should talk about sex in HCI' organized by Johanna Brewer, Joseph 'Jofish' Kaye, Amanda Williams and Susan Wyche. I was truly happy to have participated to this workshop which was attended by an eclectic and refreshing panel and which surprisingly wasn't easily accepted by the academic community - clearly talking about sex still makes people blush.
I'm glad this workshop continues to propagate echoes and so 2 years later,
the organizers' perspective
on this subject is also featured in this Ambidextrous issue.
I wouldn't have spontaneously chosen the title "Flirting across a distance" for my article, but it's growing on me. It evokes actually nicely the unclear, unsatisfactory and blurry touch of the Passages experience which is then assimilated with that one of flirting with someone.
I shall thank warmly
Amal Dar Aziz
for working on this article as my brilliant editor, Lilly Irani as my early correspondent and
Amanda Williams
for offering me the opportunity to publish an article in this modern and very well designed magazine I discovered while working at Distance Lab.
-->The PDF version of this article is available here for
download
.
Or you could as well support Ambidextrous by
subscribing!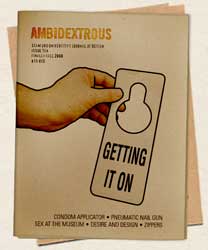 -- Joëlle.