The opening of "Abstract" took place just about 3 weeks ago. It was an incredibly rewarding moment.
First of all because I thought it would never happen. Again a couple of days before I was still getting crazy over Windows Vista, then Windows XP trying to make the pure-data program work. From Paris, Vincent would try to understand why it wasn't working on the Japanese PC while it was rolling on his machine. But with the time difference and the distance, it was taking a lifetime and if it wasn't for Carson's precious debugging help, I would have sunken deeper than the sunken ship in my sorrow.
It was also rewarding because all the people who attended the opening praised the work and I felt quite happy that they got the intention in the piece without any particular explanation.
In particular, I remember Ikuko, that I met that evening who came by chance at the gallery, not knowing what was going on and wrote me an email later telling me that the installation gave her the opportunity to take the time to face herself and her life and get "subtle reminiscent feelings, recollecting memory from childhood, school days, travel etc.."
Izumi, the curator of gallery éf, also got a beautiful idea: she invited
Ouchi
, a Japanese chef to present her summer sweets to be served with tea, in the gallery space. So people would sit on the carpet where the projection was happening and proceed to an informal tea ceremony. I managed to taste some of the confectioneries she made and got from that a delicious food experience.
All together, I felt people were very at ease with the experience, taking the time to enjoy it and to discover its different layers. My initial intention related to time length and expectation felt clearly embraced. And along the way, as it always happen, I noticed that people put emotions in it or other intentions that I didn't foresee.
Izumi keeps on letting me know how it's been going and for 3 weeks, swell and beyond.
I already named the people who helped me for this piece in a previous post - yet I feel the need to mention again some people whose support was an amazing gift: the team of gallery éf, Izumi and her mother, her aunt, her brother and Takeshi who, among others, managed to get Sanyo to lend a videoprojector; Carson who made a computer from his
lab
at the University of Tokyo available for the duration of installation and hosted me at his home in Tokyo; Julie who came with me to Japan, to make some shootings for
her own project
but who took the time to stand by me in the darkest hours, always up for some good laughs; and of course, David who I met everyday on Skype so I could share with him all the emotions of this profound experience and who at a distance provided me with his comforting and uplifiting presence.
As well, just before my departure, during the last Dorkbot Paris, Stéfane offered Vincent and I the space needed and all kind of materials to test the piece one last time and Jean-Baptiste who was around helped us on more than one occasion.
And I also forgot to mention last time another Jean-Baptiste (Verguin) whose feedback I always enjoy.
The installation is on in Tokyo for another week. It will also be exhibited in France, at the
Nuits de l'Ososphère
in Strasbourg at the end of the month of September.
I'm currently editing a short video for demo but in the meantime, here are some pictures. More of them are available at the
gallery éf website
, in the Abstract project section, along with an interview Takeshi made of me, with unusual questions...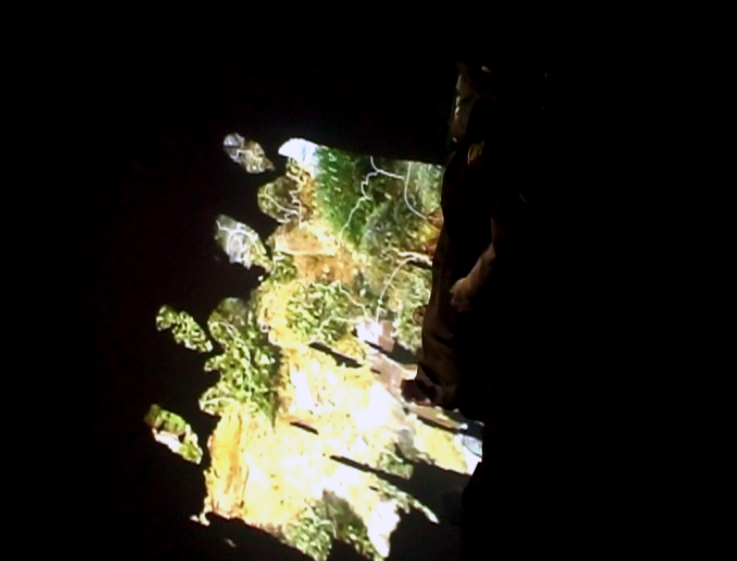 -- Joelle.