In England, it's fun to shop, even at the pharmacy. Mainly because of the packaging of products: lots of nice colours combinations, attractive layouts, great fonts, texts that talk to you (the customer) as a friend ("pop by anytime at our headquarters"), etc...
I had to bring back few samples.
Poppets are yummy chocolate sweets filled with toffee (the yummiest), mint cream, raisins or orange cream first launched in 1937 and they underwent
a major lifting last year
. I just noticed them so I guess the new marketing plan works well.
Other candy temptations are sugar-free Hotlix's lollipop with a cricket twist.. I guess, they're surfing on Edible's wave that I wrote about in this blog a couple of years ago (
"The last culinary territory to conquest"
). I came across the lollipops as they were given away during the Go-North festival, a rock/folk music festival taking place in Inverness this year. I'm not sure I got the obvious link between the 2 themes. Maybe as a hommage to rock bands from the fifties and sixties who bore insect names like the Beatles?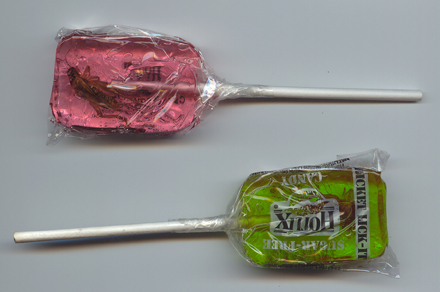 More sugar: I like the straightforwardness of this one.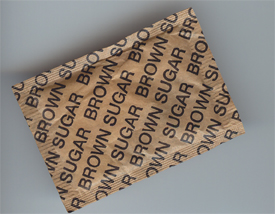 A candy look-and-feel but very medical: anti-travel sickness tablets. The packaging makes you want to ride again and again so you get to take one of their pills and feel so happy to be traveling.
Finally, I've always been attracted to designs that use the famous eye-doctor test board. I know it's a classic but in this case, it's very appropriate. Also, it's the best design ever I've seen for a contact lens solution. And it's made by a chain and they usually don't put so much effort into their own product packages, so it's something to acknowledge.
-- Joëlle.